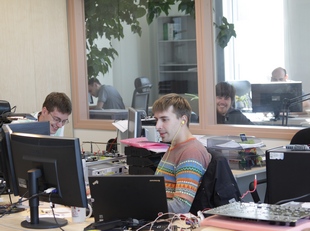 Testonica Lab is an R&D company acting in the sectors of Information Technologies and Electronics Production. The company paves its path to the success through a continuous invention and innovation process. We look deep into the future seeing upcoming challenges and seeking for economically efficient smart solutions in a tight interaction with our customers.
Testonica Lab participates in numerous R&D programs financed by European Commission (H2020) and national scientific authorities. Our engineers are closely cooperating with technology leaders in their respective segments such as Infineon, Ericsson, IBM, GOEPEL electronic, and ASTER Technologies.
Testonica Lab enjoys a fruitful cooperation with several European universities. We inherited strong relations in academic world due to being historically a spin-off from Tallinn University of Technology. Testonica Lab is located in a science park, where it can share research personnel with the alma mater. Five PhD holders belong currently to the team of the company.
Due to a strategic location, Testonica Lab has the best possible access to young talents and we do our best to attract the most prominent students to start a professional carrier in a friendly R&D team of our company. Currently, two PhD students are pursuing doctoral degrees in Testonica Lab in the topics of embedded instrumentation and emulation-based (processor controlled) test.
Our mission is to develop and provide outstanding tools and services in the field of test and design for test. Our primary area of activities is Embedded Instrumentation (also IEEE 1687) and Boundary Scan (JTAG) including advanced applications in high-performance test and on-line monitoring. To name some examples, ChipVORX Bit-Error Rate Test instruments and numerous VarioTAP models are among the latest products and technologies developed by Testonica Lab in cooperation with a German company GOEPEL electronic.
The team of Testonica Lab will be happy to be your reliable partner in innovative test technologies!