---
Goepel electronic Launches ChipVORX®, a New Embedded Instrumentation Technology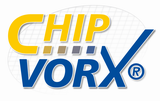 At the International Test Conference (ITC'2010) in Austin, TX, USA, GOEPEL electronic, world-class vendor of JTAG/Boundary Scan solutions announces the development of a new ChipVORX® technology enabling support of embedded test instrumentation in connection with JTAG/Boundary Scan.

The first application of ChipVORX®, developed in cooperation with the Tallinn/Estonia based Company Testonica Lab is a new ultra fast speed in-system programming of every kind of Flash components assisted by FPGA-based intelligent IP instruments. ChipVORX® technology also targets many other applications of embedded instrumentation. To list some of them: Built-In Self-Test, Bus Error Test, Signature Analysis and many others.

Due to the OEM cooperation with all leading vendors of In-Circuit Testers (ICT), Manufacturing Defect Analysers (MDA), Flying Probe Testers (FPT) and Functionality Testers (FT), the new technology is available for production with immediate effect.

The new ChipVORX® IP instruments and models are supported as standard starting from SYSTEM CASCON™ version 4.5.4 and are activated by the licence manager like the system software. SYSTEM CASCON™ is a professional JTAG/Boundary Scan development environment, developed by GOEPEL electronic with currently 45 completely integrated ISP, test, and debug tools. Regarding the hardware, ChipVORX® is completely supported by the controllers of the SCANBOOSTER™ family, as well as by the hardware platform SCANFLEX®.
---